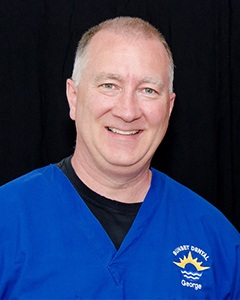 Dr. Jones, or "George" as he is known to most of his patients, friends and family, completed his training at the University of Florida College of Dentistry in 2003. He graduated at the top of his class and served as class president during his junior and senior years. After graduating, Dr. Jones immersed himself in his new career and tried to learn everything he could about the latest techniques and materials.
In fact, he completed over 220 hours of continuing education last year alone (over 10 times North Carolina's state licensing requirement). Dr. Jones is a fellow of the International Congress of Oral Implantologists (the largest dental implant organization in the world), a diplomate of the American Sleep and Breathing Academy, and a member of both the American Academy of Dental Sleep Medicine and the Academy of General Dentistry. Dr. Jones has a passion for dentistry and continuously seeks out the latest techniques and procedures.
As he has become recognized as a clinician who is familiar with the latest in technology and materials, Dr. Jones has recently become a product evaluator and consultant to several dental manufacturers.
On a personal note, Dr. Jones was raised in Wheeling, West Virginia, and graduated from Wheeling Jesuit College with a bachelor's in chemistry. After graduating, he relocated to St. Petersburg, Florida, where he met his wife, Holli, a Wilmington native.
After working in pharmaceutical and medical equipment sales for nine years, he was hired as a regional sales manager for a dental manufacturer. After three years of spending 30 to 40 hours a week in dental offices, he knew he had found his true calling. With his wife's support, he quit his job, sold their house and enrolled in dental school. They decided to relocate back to North Carolina to be closer to both their families.
When not practicing dentistry, Dr. Jones is busy raising three daughters, two dogs, a cat, a guinea pig and a lizard. As time permits, he enjoys fishing, traveling and photography.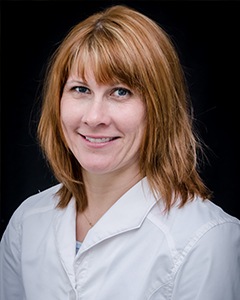 Dr. Jennifer Munson is a native of Warren, Pennsylvania. She attended Penn State University and graduated with a B.S. in biology. Prior to graduation, Dr. Munson was commissioned in the United States Navy. While in dental school at the Medical University of South Carolina, Dr. Munson attended Officer Indoctrination School in Newport, Rhode Island. After graduating from dental school in 2003, Dr. Munson was stationed at Great Lakes, Illinois, before being transferred to Camp Lejuene, North Carolina. Dr. Munson deployed to Al Asad, Iraq, in February of 2005. She was in charge of the dental clinic at Al Asad. Her duties also included dental care for all military, contractors, and third country nationals. Dr. Munson gained valuable knowledge while in the military. Afterwards, Dr. Munson worked in group practices and private practice while in North Carolina. She moved to New Orleans in 2015 but returned back to North Carolina in 2017. When not practicing dentistry, Dr. Munson enjoys spending time with her family at the beach, riding bicycles, or reading a great book.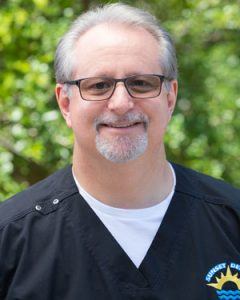 Dr. Aiken is a native of North Carolina. He attended the University of North Carolina at Chapel Hill school of dentistry. Dr. Aiken practiced in Rockingham, North Carolina, with his father until the senior Dr. Aiken retired. Dr. Aiken moved to the beach four or so years ago and came on board with Dr. Jones. He then became an owner of Sunset Dental along with Dr. Jones and Dr. Munson. Dr. Aiken loves to spend time with his wife, son and family when he is not working hard here at the office. Our favorite thing about Dr. Aiken is that he plays guitar, and if you are lucky enough to have a late Thursday afternoon appointment, you may have the pleasure of hearing him play his guitar for the staff at the end of the day.
Meet Our Team
We value the hardworking and highly skilled members of our team who go above and beyond to meet the needs of our patients. Our attentive team will be there to assist you every step of the way to help you have a positive and rewarding dental experience with us. To learn more about our dental practice in Sunset Beach, North Carolina, we welcome you to contact Sunset Dental today with any of your questions. If you are interested in meeting with our dentists, give our team a call at 910-575-6300 and ask for Dr. Jennifer Munson, Dr. Kevin Aiken or Dr. George Jones!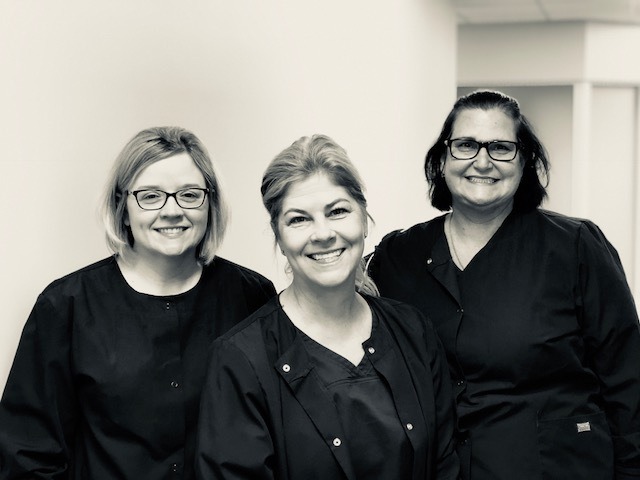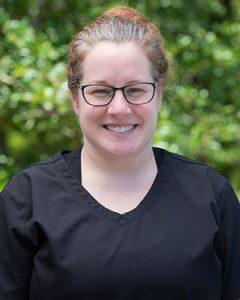 Aubri is a native of the northeast, though her family has relocated here to the Little River area. Aubri has served her country and is a Navy Veteran. Aubri has 24 years of dental experiance.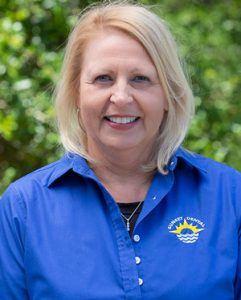 Beverly – Administrative/Dental Assistant
Beverly is a graduate of Darlington Technical College for Dental Assisting. She has worked as a CDA (Certified Dental Assistant) for more than 20 years. Beverly's experience with chairside assisting and office administration span more than 40 years. Beverly states, "I love the beach and spending time with my family."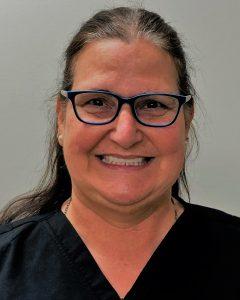 Bonnie – Dental Hygienist
Bonnie was born in California. She says, "I've been a hygienist for 30 years. My husband and I have been married for 33 years, with one son, two daughters and two grand daughters."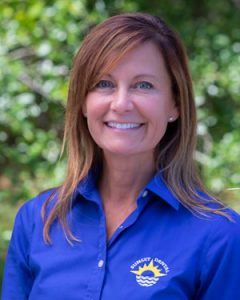 Carina – Dental Office Manager
Carina received her dental assisting training at Northampton Community College in Bethlehem, Pennsylvania, becoming a Certified Dental Assistant. She continued her training at Harcum College in Bryn Maw, Pennsylvania, becoming an Expanded Functions Dental Assistant. Able to place and finish restorations in the state of PA, she also had leadership training at this time to become the Dental Office Manager of a practice in Kutztown, PA. Carina enjoys spending time with her dog, Lily, and her children. She also enjoys paddle boarding in the warmer weather and is a fitness nerd.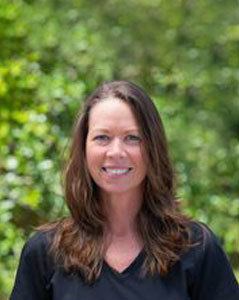 "Hi, I'm Dona. I grew up in South Florida and attended Broward College. I worked in medical billing and coding for many years. I was looking for a career change when my dentist suggested I look into dental hygiene. I took his advice! I graduated from Wake Technical Community College in 2010 with my degree in Dental Hygiene. I've been at Sunset Dental since 2014. In my spare time I enjoy traveling, skiing, riding my Harley and spending time with my husband and our son."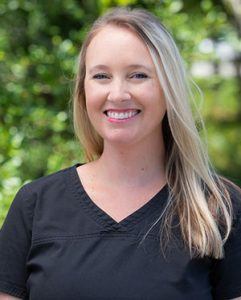 Emily received her Dental Assisting Certification at Trident Technical College in Charleston, South Caroline. She is happily married and has a son. Emily enjoys going to the beach and spending time on her family's boat with her husband and son.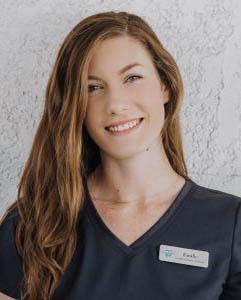 Emily B – Dental Assistant
Emily is a local to the Brunswick county beaches. She has been a dental assistant since 2015, spending her first two years specializing in endodontics. She loves spending time with family and doing anything outdoors.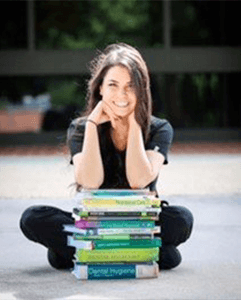 Jackie grew up mostly in the mountains of North Carolina and moved to Bladen County as a teenager. She and her husband recently moved to Brunswick County, and they absolutely love it here. In her spare time, Jackie enjoys being with her husband and their families.
Jackie loves working as a dental hygienist and building relationships with each of her patients while keeping oral and systemic health our top priority.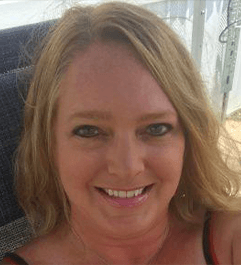 Jenena – Dental Assistant
"I am a Columbia, South Carolina, native and moved to the beach in 2018. I love being a Dental Assistant, helping patients and getting to know them. When I am not at work, I enjoy reading, going to the beach, listening to music, and spending time with my family and friends."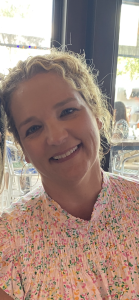 Lea Ann Vanhoose
Office Assistant Manager
Lea Ann started working at Sunset Dental in October of 2019 and transferred to the Southport location in August of 2020. She has worked in the dental field for 25 years, and her favorite part of this dental office is the family atmosphere.
Lea Ann has two daughters, who are currently attending college at University of North Carolina Wilmington and East Carolina University. Outside the office, she loves spending time with family, traveling and going to the beach.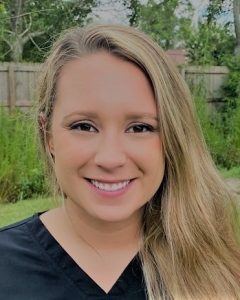 "I am a recent graduate of the Horry Georgetown Technical College Dental Hygiene program. I strive to make my patients as comfortable as possible by building confidence, trust and friendship with each patient, and while keeping their oral health the top priority. In my spare time, I enjoy spending time with friends, family and my Goldendoodle."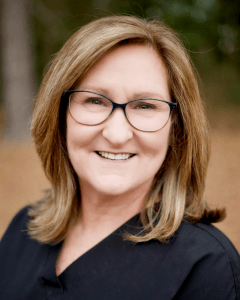 Regina (Gina) – Dental Assistant
"Born and raised in North Carolina, I have been a dental assistant for over 25 years. I love working with patients and have a passion for dentistry. I have been married for 34 years. We have two wonderful children, a grandson that calls me Noni, and a granddaughter on the way."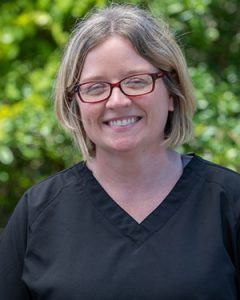 Tabitha – Dental Assistant
"I'm a North Carolina native, and I've been in the dental field since graduating high school in '92. I enjoy helping people have better health through better oral health. I am happily married and have two wonderful children and two beautiful grandchildren who call me Nana. My life quote has always been, "pretty is, as pretty does." So do unto other as you would have done to you. Look forward to seeing you at Sunset Dental, where we give smiles away!"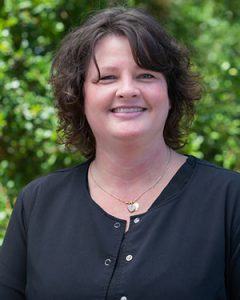 Tiffany has her degree in applied science with over 30 years of dental experience. Her background includes orthodontic assisting as well as administrative experience. Tiffany loves spending time with her family and her favorite four-legged friend and loves living at the beach.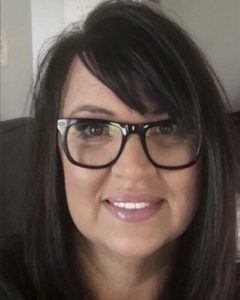 Tracy has been a dental assistant for more than 25 years. She loves working with our patients to help them feel comfortable and achieve their dental needs and goals. Tracy loves spending time with her family and friends in her time away from the office.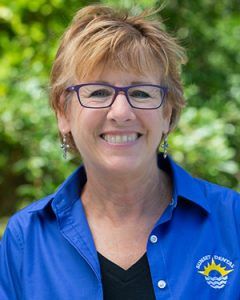 Wendy – Administrative/VA Specialist
"I have been employed in the healthcare industry for over 40 years. I have been lucky to serve patients in medical and dental practices in clinical and administrative capacities. Besides helping patients, I enjoy cooking, gardening and exercising."